Forensic Fluids Laboratories is leading the industry in oral fluid drug testing using liquid chromatography-tandem mass spectrometry (LC/MS/MS). More sophisticated than gas chromatography, the Michigan-based company offers the industry's fastest turnaround time using the most advanced, court-approved technology available. Recognized for innovation in small business by the EY Entrepreneur Of The Year in 2014, Forensic Fluids Laboratories is the only lab in the United States specializing exclusively in oral fluid/saliva drug testing using LC/MS/MS.
---
Our Culture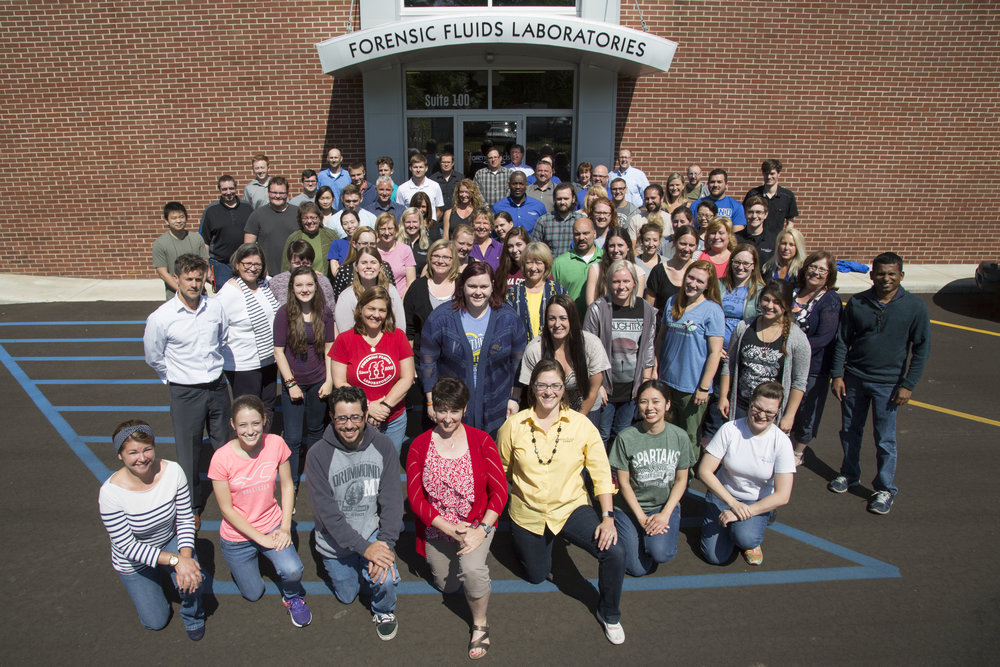 Forensic Fluids Laboratories' corporate culture is "value-based" and our core values guide all our actions. The happiness of the team members is essential for the success of Forensic Fluids Laboratories, and there are continuous efforts to promote happiness in our workplace. Examples include the Happiness Index Survey, on-site massage therapy, reflexology, and reward programs which promote positive feedback loops from team member to team member.
Our core values are what we live and breathe at Forensic Fluids Laboratories. Our corporate culture is built on these core values. These are the values by which we make individual and company-wide decisions. These are the values that inspire and move us to be the best professionals we can be, the best company we can be and to go out into the world and make a positive impact.
Our core values are:
Accurate
Friendly
Passionately Dedicated
Customer Focused
Find Better Ways
CURRENT POSITIONS
Our mission is to exceed customer expectations by delivering the most accurate drug testing results with the fastest turnaround time in the industry. It is a priority to also provide outstanding, professional customer service. We strive to be better than any other laboratory in the world. We expect our employees to promote exceptional customer focus and teamwork. Your initiative should be demonstrated every day to ensure the organization runs efficiently and projects are accomplished. We require a responsive, committed individual. See our available positions below:
Certifying Scientist 2nd Shift (2-11pm)
---
Certifying Scientist 2nd Shift (2-11pm)
Certifying Scientist, Forensic Fluids Laboratories, Kalamazoo, MI.  Multiple Openings. Second Shift (2-11 PM). Duties: Adhere to standard operating procedures in confirming samples for drugs in a high throughput laboratory; accurately receive, sort, open & review incoming samples; learn & accurately execute daily:  Laboratory Information Management Software (LIMS) to process samples; LC/MS/MS confirmation procedures; analysis, review & reporting of test results; operation & maintenance of laboratory equipment; maintain & ensure high level of accuracy & quality for results, records & documentation; manage time effectively to maintain production levels and meet production goals; contribute, recommend and develop ideas for continuous process improvement and performance for procedures, workflow and the Quality Program; and, work efficiently, both independently and in a team-oriented environment
Minimum requirements:  Masters of Science in Microbiology, Biochemistry, Chemistry, or Related Fields plus 1-year experience in HPLC (High-Pressure Liquid Chromatography), GC (Gas Chromatography), & good laboratory practices & procedures. Alternatively, may have a Bachelor's of Science in Microbiology, Biochemistry, Chemistry, or Related Fields plus 5 years' experience in HPLC, GC, & good laboratory practices & procedures.
Contact Information:  Applicants must send resume to careers@forensicfluids.com
---
Logistics
FFL exists to improve lives, to enrich the lives of our team members and to support our community by giving back to local organizations like Habitat for Humanity, Animal Rescue Project, Borgess Run, Hospitality House and local schools. FFL works proactively to increase the value of drug testing by educating our clients about the benefits of Oral Fluid drug testing. FFL provides fast, accurate results using the best technology available and done by professional, trained team members. FFL plays hard by being intentional with our culture, sponsoring and attending local theatre, sports, and music events, and planning ways for our team members to engage at and outside of work. We have big plans. Be a part of our ever-growing company and contribute to our unique culture and Duck Squad! Come learn to QUACK!
Your essential functions in this position are to
• maintain a stock of order components, accurately process customer requests and ship
• receive, maintain and ensure an adequate supply of all inventory for logistics, laboratories and administrative offices (all of FFL)
• accurately operate all shipping and inventory software (UPS, FedEx, Fishbowl); operate other FFL software including but not limited to LIMS, SharePoint, and Salesforce
• manage communications and negotiations with current and potential vendors
• identify and investigate cost-saving opportunities
• learn and adhere to the Health Insurance Privacy Protection Act (HIPPA) confidentiality guidelines
• develop a working knowledge of alarm and fire suppression systems managed by EPS
• have the ability to focus and stand for prolonged periods; frequently lift 20-40 pounds; wear protective clothing and safety equipment, when required
You will impact the company by
• providing exceptional customer service and building customer trust
• building a positive work environment through accuracy, flexibility, high performance, teamwork, and happiness
• building an efficient, cohesive and professional workspace by supporting all internal departments
• coordinating resolution of facility issues and effectively communicating progress with appropriate personnel
Must be able to document:
• either a Bachelor's degree with a minimum of two (2) years combined shipping and inventory experience, OR a minimum of five (5) years combined shipping and inventory experience
• experience in communicating with, leading, and engaging others effectively
• ability to exercise good judgment and take an initiative
• an elevated level of skill in interpersonal communication, organization, problem-solving, prioritization, and proof-reading of written materials and communications
Forensic Fluids Laboratories is committed to supporting our team members with a complete benefits package including 401(k) and more. If you are up to the challenge, we welcome your resume at humanresources@forensicfluids.com.